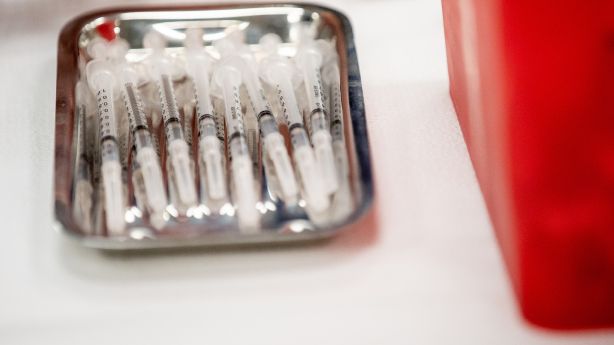 Salt Lake City – Utah's number of COVID-19 cases rose 336 on Friday, with one more death and 17,583 vaccinated, according to the Utah Department of Health.
The Department of Health estimates that there are 7,623 cases of COVID-19 in Utah, the average seven-day number of positive cases per day was 322, according to the health department. The test positive daily rate for that period calculated with the "More people" was 6.6%. The daily positive test rate for that period calculated with the "test over test" method is now 3.6%.
Currently, there are 147 COVID-19 patients hospitalized in Utah, including 46 in intensive care, state data show, now about 71
% of all intensive care beds in Utah. Hospitals are occupied, including about 73% of ICU beds in 16 state referral hospitals, according to the Department of Health.About 57% of non-ICU hospital beds are currently in use in the state, the Health Department reported.
There were a total of 2,372,916 vaccinations in the state, up from 2,355,333 on Thursday. All 1,377,940 of Utah have now received at least the first vaccine and 1,095,318 are fully vaccinated. So far, 2,896,223 vaccines have been delivered to Utah.
Friday's update showed that 43% of Utah's total population received at least the first dose of the vaccine and 34.2% of the population had received the full vaccine. Among Utahs 12 and over eligible for the vaccine, about 53.2% received at least the first time and 42.3% were fully vaccinated.
The new numbers indicate a 0.08% increase in positive cases since Thursday from 2,629,251 people tested for COVID-19 in Utah so far 15.3% have been tested positive for the disease. The total number of tests performed in Utah since the outbreak began now is 4,794,803, up 12,892 since Thursday.Of these, 5,668 are those that have never been tested for COVID-19. before
Friday's death report was a Weber County woman between the ages of 65 and 84 and was not hospitalized when she died. The woman died before April 14, but her death is pending review by state doctors, the health department said.
Friday's total put 402,005 confirmed patients in Utah, with a total of 16,492 hospitalizations and 2,256 deaths from the disease, with COVID-19 now in Utah. An estimated 392,126 were considered healed, the Department of Health reported.
Utah Salt Lake City Amended Mask Regulations
The states of Utah and Salt Lake City have revised mask requirements related to government facilities and their employees.
Utah is ending masking mandates for all state facilities about two weeks earlier than planned.
Government employees will no longer be required to wear masks to work since Saturday, according to Gov. Spencer Cox office records sent to all government employees this week. The order was originally scheduled to end on March 31.
The record said employees could continue to wear masks after Saturday.
"We emphasize that ending the mask requirement is not a prohibition against wearing masks," the memo said. "Wearing masks continues to benefit health and is within the discretion of each employee. mask"
The governor's office also suggested in the memo that the government continued to put signs on buildings informing people of COVID-19 symptoms and advising people with any condition to stay home.
The memo also said government employees should be vaccinated against COVID-19 as soon as possible and that health and safety measures should be continued to prevent the spread of the disease.
Salt Lake City Mayor Erin Mendenhall and Salt Lake County Mayor Jenny Wilson revised mask orders for the city facility on Friday.
Those fully vaccinated will no longer be required to wear a mask in city buildings, according to a press release from the mayor's office. Employees of fully vaccinated cities and districts are encouraged to continue wearing masks while in public areas or when they cannot be remotely from society. But it doesn't need to be used
Unvaccinated workers will still be required to wear masks at all other city and county and site locations while on the job, and unvaccinated visitors will be asked to wear a mask while In a city building
Because the U.S. Centers for Disease Control and Prevention has announced an updated face mask guideline that no longer recommends fully vaccinated people wear masks in most locations, Mendenhall said city authorities need to. Have an update
"Yesterday's CDC announcement that people who get vaccinated do not need to wear masks is long-awaited news for many, an epidemiologist and the CDC's advice will guide the response of our city. To the outbreak of this disease always, so as suggested today, I am going to revise my executive order to Make it clear that individuals who are fully vaccinated will be exempt from wearing a mask at the city's property, "Mendenhall said.
Wilson said the update signaled progress in fighting the COVID-19 epidemic.
"This is a journey for our community, it's a challenge. It's great today the sun is shining and we see a lot of progress," Wilson said at a press conference on Friday.
She stressed the importance of getting vaccinated and encouraging residents to get vaccinated if possible. Wilson said the county is working on programs and clinics to help vaccinate more vulnerable populations.
At the closing of the press conference, Wilson told residents of the community to be polite to each other and to do business about masks and vaccinations.
"What we don't want is a vaccine war," Wilson said. "Half of us are protected, at least half of us don't. That means we have to have respect and care and dignity in this community. Each person "
Participation: Ashley Fredde, KSL.com
×
Photograph
Related Story
More stories you might be interested in.
Source link