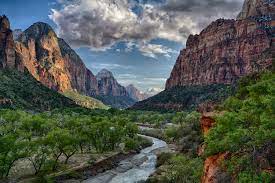 SPRINGDALE, Utah — A 26-year-old woman has died after falling into a canyon at a U.S. national park in Utah, officials said.
The woman's body was recovered Sunday from Mystery Canyon at the Zion National Park Service, it said in a news release.
Alaska National Guard rescues 12 people from Glacier.
According to visitors, the woman was rowing a canoe alone and fell 50 to 80 feet on Saturday afternoon. The team conducted a search and rescue operation that closed various areas of the park.
A helicopter was sent to rescue the woman. but couldn't pull her out. "Due to the narrow and steep canyon walls," the parks agency said in a statement. Doctors later contacted the woman shortly before her death.
The woman suffered injuries consistent with falling from a height. park officials said Her name was not immediately released.
CLICK HERE TO GET FOX NEWS APP
The woman was said to be "Rafting"
; is the practice or sport of water through a canyon by walking, swimming, white water rafting, climbing, abseiling, or other similar methods.
The National Park Service and the Washington County Sheriff's Office are investigating the death.
Source link