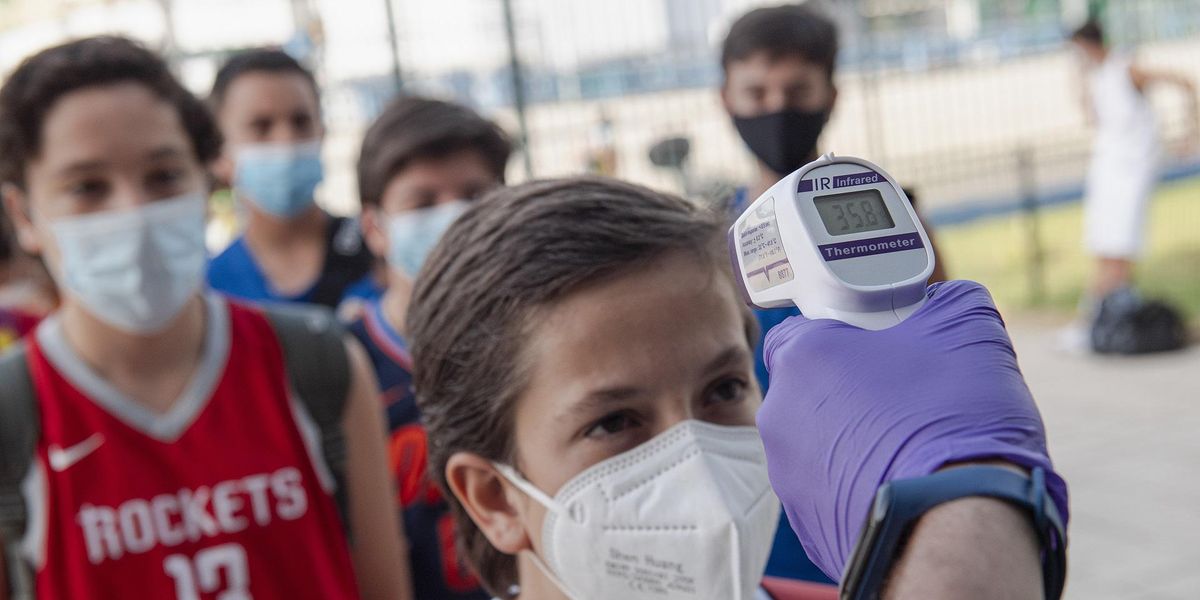 The CDC has relaxed its recommendations about wearing masks and other recommendations. About COVID-19 for summer camp It updates the children's guidelines several weeks after youth ages 12 to 15 are eligible for the vaccine.
What are the details?
An update released on Friday suggested that the coronavirus vaccine in the US It's approved for anyone 12 years and older, and says camps where everyone has been vaccinated against the virus may safely leave all masks and social distancing. Although vaccinated people are not required to wear masks, the CDC recommends that camps encourage those who choose to wear masks.
The Washington Examiner points out that 1
2 to 15-year-olds just received the Pfizer vaccine on May 12. According to current CDC statistics, nearly 60% of children 12 and older get at least one jab, which is high enough. The CDC saw an opportunity for "Pre-epidemic camp experience," an official told The Washington Post.
"We have all of these teenagers who can be fully vaccinated in the mid to late summer," the head of the CDC Community Action Team and the Crisis Population Task Force told the newspaper. "Camps are at a point where they can offer the opportunity to set up camps where everyone is fully vaccinated."
For all unvaccinated camps — applied to all camps with children under 12 — masks are still recommended by indoor feds, but the CDC says "people generally don't need to wear masks. Outdoors." However, unvaccinated persons should wear masks outside when in the situation. "In close contact" with others who are not vaccinated. said the agency
The Post reports that the CDC's updated guidelines "eliminate any apparent inconsistencies between previous camp recommendations that all staff and camps wear masks and the latest announcement."
Two weeks ago, the CDC announced that fully vaccinated Americans could return to a mask-free lifestyle with a few exceptions. And updates for youth camps arrive as the summer season begins.
window.REBELMOUSE_LOWEST_TASKS_QUEUE.push(function(){
window.REBELMOUSE_STDLIB.loadExternalScript("https://assets.revcontent.com/master/delivery.js", function() {
});
});
window.REBELMOUSE_LOWEST_TASKS_QUEUE.push(function(){
//Facebook Pixel Code !function(f,b,e,v,n,t,s) {if(f.fbq)return;n=f.fbq=function(){n.callMethod? n.callMethod.apply(n,arguments):n.queue.push(arguments)}; if(!f._fbq)f._fbq=n;n.push=n;n.loaded=!0;n.version='2.0'; n.queue=[];t=b.createElement(e);t.async=!0; t.src=v;s=b.getElementsByTagName(e)[0]; s.parentNode.insertBefore(t,s)}(window, document,'script', 'https://connect.facebook.net/en_US/fbevents.js'); fbq('init', '1398069580413568'); fbq('track', 'PageView');
});
window.REBELMOUSE_LOWEST_TASKS_QUEUE.push(function(){
function menuClick() { console.log("clicked");
if (document.querySelector('.hambg-btn.js--active') != null) { document.getElementsByClassName('huge-menu')[0].style.display = 'none'; document.getElementsByClassName('hambg-btn')[0].classList.remove('js--active'); document.body.classList.remove("huge-menu-opened"); document.body.classList.remove("menu-opened"); } else{ document.getElementsByClassName('huge-menu')[0].style.display = 'block'; document.getElementsByClassName('hambg-btn')[0].classList.add('js--active'); document.body.classList.add("huge-menu-opened"); document.body.classList.remove("menu-opened"); } }
function addMenuClickListener() { var rebelMenu = document.getElementsByClassName('rebelbar__menu-toggle'); var menuClose = document.getElementsByClassName('hm__close'); var stickyMenu = document.getElementsByClassName('sticky-menu');
rebelMenu[0].addEventListener('click', menuClick);
if(menuClose[0] != undefined){ menuClose[0].addEventListener('click', menuClick);}
if(stickyMenu[0] != undefined){ stickyMenu[0].addEventListener('click', menuClick); } }
addMenuClickListener();
});
window.REBELMOUSE_LOWEST_TASKS_QUEUE.push(function(){
window.REBELMOUSE_STDLIB.loadExternalScript("https://assets.adobedtm.com/98de9919e92a38033805f9f035c43198533e4380/satelliteLib-38c7b1e4b1bb3e0378e82d10601662aebfb04eda.js", function() {
window.analyticsData = { events: {active: {view: {asset: {}}, device: {}}} }; window.analyticsData.events.active.device.appVersion = "1.1"; window.analyticsData.events.active.device.host = "premiere.off.us"; window.analyticsData.events.active.device.subHost = "theblaze.com"; window.analyticsData.events.active.pageName = "articles"; //window.analyticsData.events.active.view.asset.id = "articles|"+ __BOOTSTRAP__.post.basename; window.analyticsData.events.active.view.asset.name = document.title; //window.analyticsData.events.active.view.authorId = __BOOTSTRAP__.post.original_user_subsite.title; window.analyticsData.events.active.view.pubDate = "05/28/2021"; window.analyticsData.events.active.view.contentOriginType = "Premiere"; window.analyticsData.events.active.view.stationCallLetter = "TheBlaze"; window.analyticsData.events.active.view.stationFormat = "NEWSTALK"; window.analyticsData.events.active.view.stationMarket = "PREMIERE"; window.analyticsData.events.active.view.personalityId = "theBlaze"; window.analyticsData.events.active.view.tags = ["cdc", "guidance", "kids", "loosens", "mask", "summer-camp", "youth"]; window.analyticsData.events.active.view.photoGalleryExists = "FALSE"; window.analyticsData.events.active.view.photoGalleryPageView = "FALSE"; window.analyticsData.events.active.view.contentFrame = "page"; window._satellite && _satellite.pageBottom();
});
});
window.REBELMOUSE_LOWEST_TASKS_QUEUE.push(function(){
function test_adblock(func, id) { var t="0.1.2-dev", el = document.createElement('div'); el.id = id ? id : 'sponsorText'; el.appendChild(document.createTextNode(' ')); Object.assign(el.style, { left: '-999px', position: 'absolute' }); document.body.appendChild(el); setTimeout(function() { if (el) { var o = el.clientHeight === 0; func(o, t); document.body.removeChild(el); } }, 200); } test_adblock(function(is_blocked) { console.log(is_blocked); var wid = is_blocked ? 140286 : 140117, target = document.getElementById('rc-adblock-widget'); var el = document.createElement('div'); el.setAttribute('data-rc-widget', ''); el.setAttribute('data-endpoint', 'trends.revcontent.com'); el.setAttribute('data-widget-id', wid); target.appendChild(el); if (typeof window.renderRCWidget !== 'function') { var script = document.createElement('script'); script.src="https://assets.revcontent.com/master/delivery.js"; script.defer = true; target.appendChild(script); } else { window.renderRCWidget(el) } });
});
window.REBELMOUSE_LOWEST_TASKS_QUEUE.push(function(){
(function(s,u,m,o,j,v){j=u.createElement(m);v=u.getElementsByTagName(m)[0];j.async=1;j.src=o;j.dataset.sumoSiteId='f20bb26e74a94a53daa9113206b98941e1dfba90635d317b9efd9e33a89bf515';v.parentNode.insertBefore(j,v)})(window,document,'script','//load.sumo.com/');
});


Source link