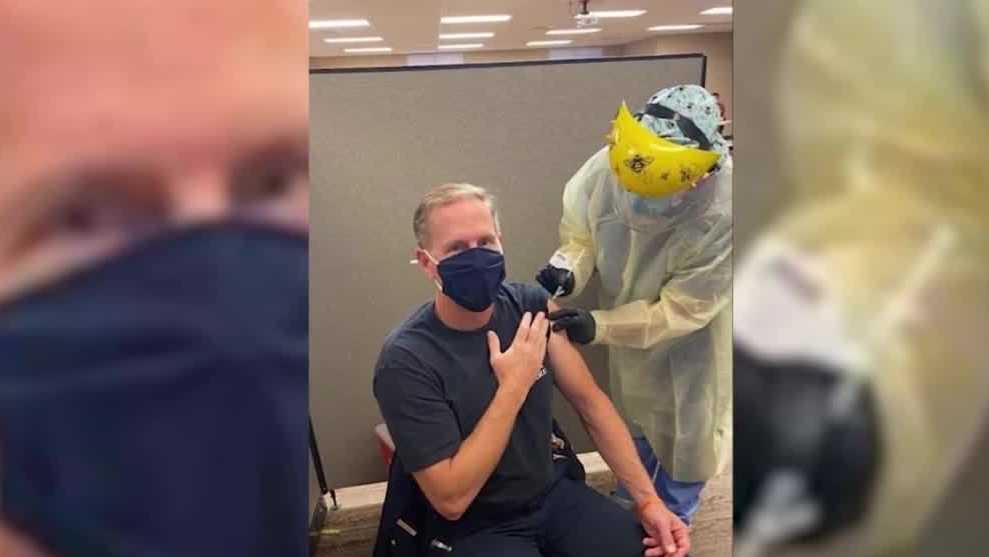 Months after a COVID-19 outbreak made 10 firefighters in Ceres sick, two firefighters, a cancer survivor and a COVID-19 survivor, shared their experiences with the COVID-19 firefighters. Got the vaccine, said Jeff Serpa, head of the attack, had no hesitation. But will decide only when he "In my opinion it was never an option for myself not to get it," Serpa said in a mobile video he shared with KCRA 3. The nurse gave him the vaccine a few weeks after he was sick with the virus. "It was really bad, severe body aches, fever, chills, no appetite," says Serpa. "It's hard, of course. Emotional side effects are likely to be worse than physical side effects. "Serpa was one of 1
0 Ceres firefighters who detected positive COVID-19 in November. Months later, he, along with eight other firefighters, returned to work, said Ceres Fire Chief Kevin Wise, said he had seen more of his staff apply for vaccines. But there was still some hesitation. "Not that they It's very anti-vaccination because of them… they want to see the results, "says Chief Kevin Wise. Wise is a cancer survivor. He was diagnosed with multiple myeloma in 2011 and had a bone marrow transplant in the United States. He was diagnosed with leukemia in 2015, where he had a second bone marrow transplant in 2016.He said he is now in remission of the cancer. White blood cells, and even with very little multiple myeloma Still in his body, something else, he was healthy and very lucky, Wise said, getting vaccinated was a matter of protecting himself, his staff, and his community. "I really believe this is the only weapon we have right now to fight this. And I hope it will be successful, "Wise said. Wise said registration for the COVID-19 vaccine is not compulsory. But it's strongly encouraged, both Wise and Serpa say they understand the concerns about side effects. But first respondents are recommended to do their own solid research. Wise received a second dose on Tuesday. "Don't listen to what you find on social media, most of it is hearsay and opinions," Serpa said. KCRA 3 also contacts Stanislaus County and its hospitals in Modesto. "As of today, Kaiser Permanente has vaccinated more than 57,000 people as part of Level 1A in our Northern California area," said Kaiser Permanente. Vaccination increases with every We have no information to share about who may refuse or postpone vaccinations. "Doctors Medical, part of Tenet Healtchare, did not provide a specific vaccine number, Stanislaus County disclosed:" The public has been allocated 9,010, which is a part of Tenet Healtchare. We are serving Behavioral health and IHSS practitioners. Healthcare providers have 16,215 vaccines available for them. The challenge is getting information on how many are cared for, hospitals are very busy to handle. Against power surges and may cause delays. Today we have vaccinated everyone in Phase 1A. "
CERES California –
Months after a COVID-19 outbreak made 10 firefighters in Ceres sick, two firefighters, a cancer survivor and a COVID-19 survivor, shared their experiences with being vaccinated.
Battalion Leader Jeff Serpa said there was no hesitation, only determination when he decided to get the COVID-19 vaccine.
"In my opinion, it was never an option for myself not to get it," Serpa said.
In a cell phone video he shares with KCRA 3, Serpa is comfortable while nursing a vaccine just weeks after he fell ill from the virus.
"It's quite bad. I have severe body aches, fever, chills, lack of appetite, "says Serpa." It's difficult, of course. I would say the emotional side effects are probably worse than the physical ones. "
Serpa was one of 10 Ceres' firefighters who tested positive for COVID-19 in November. Months later, he, along with eight other firefighters, had returned to work.
Ceres Fire Chief Kevin Wise said he sees more of his employees applying for the vaccine. But there is still some hesitation.
"It's not that they are against vaccination too much because they … they want to see the results," said Chief Kevin Wise.
Wise is a cancer survivor. He was first diagnosed with prostate cancer in 2011 and received a bone marrow transplant in 2012 that failed to eradicate the cancer entirely. He was diagnosed with leukemia in 2015. He had a second bone marrow transplant in 2016. He said he is now in leukemia relief and although there are still several tumors in Little body He's very healthy and lucky.
Being vaccinated, Wise said, was a matter of protecting himself, his staff and his community.
"I really believe this is the only weapon we have right now to fight it and I hope it succeeds," Wise said.
Wise said registration for the COVID-19 vaccine was not mandatory. But strongly support
Both Wise and Serpa said they understand the concerns about side effects. But first respondents are recommended to do their own solid research. Wise received a second dose on Tuesday.
"Don't listen to what you find on social media, most of it is hearsay and opinions," Serpa said.
KCRA 3 also contacts Stanislaus County and its hospitals in Modesto. No organization specifies the number of people who postpone vaccination or refuse.
Kaiser Permanente replied:
"As of today, Kaiser Permanente has vaccinated more than 57,000 people who are part of Level 1A in our Northern California area, with more vaccinations every day. We have no information to share about people who might be vaccinated against them." Refuse or postpone vaccination "
Doctors Medical, part of Tenet Healtchare, does not provide a specific vaccine number.
Stanislaus County launched:
"Public allocated 9,010, of which we serve behavioral health practitioners and IHSS. Healthcare providers have 16,215 vaccines available for them. The challenge is getting information on how much is cared for. Until now, the hospital has been busy dealing with And it can cause a delay. As of today, we are opening vaccinations to everyone in the 1A phase. "
Source link