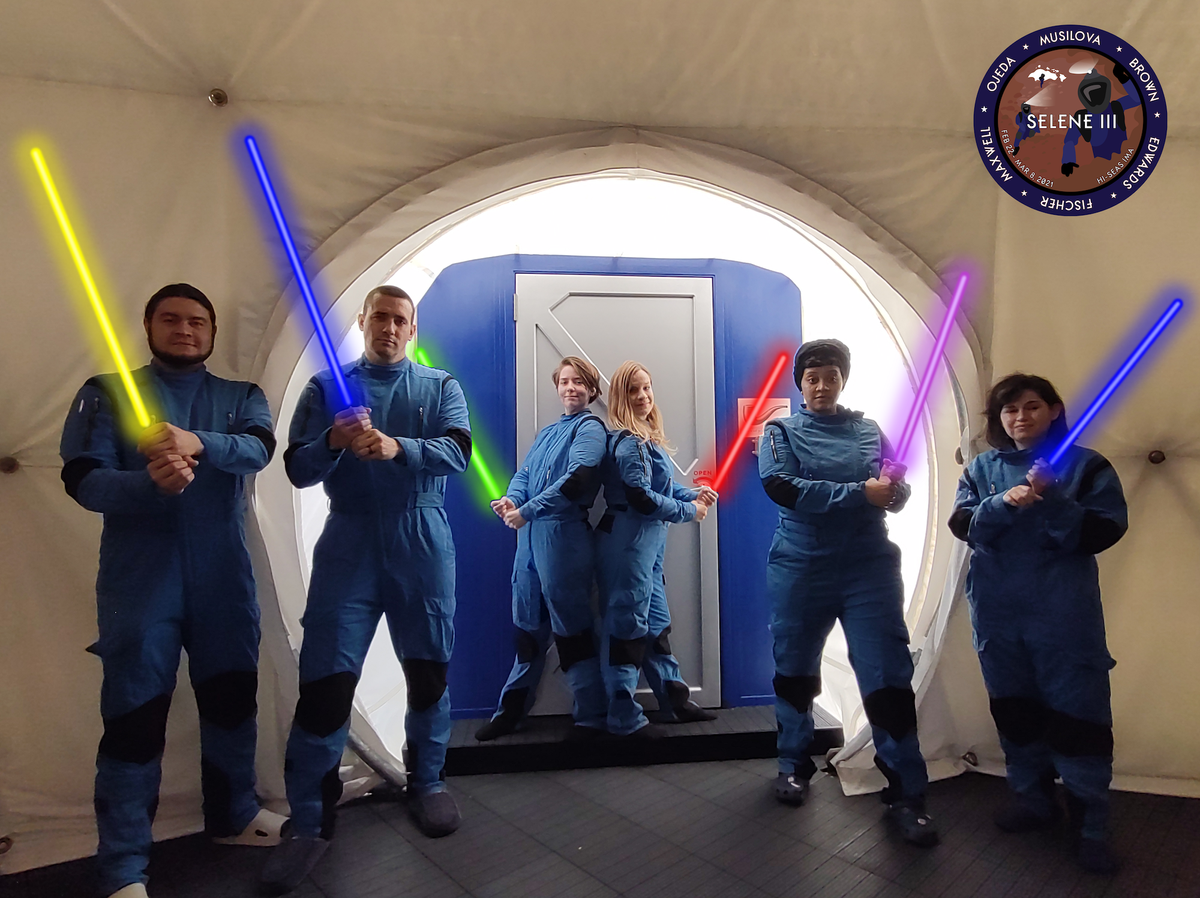 Dr. Michaela Musilova is the Director of Hawaii Space Exploration Analog and Simulation (Hi-Sees), Which conducts analogue missions to the Moon and Mars for scientific research at the base of Maunaloa volcano. She is currently in command of Selene III's Lunar Mission for two weeks and contributed to the report to Space.com. Expert Voice: Op-Ed & Insights.
Commander's Report for the Selene III Moon Mission at HI-SEAS.
8th lunar day (1 March 2021)
More gray and gray That̵
7;s all we can see outside the window: the endless gray "dust cloud" on the moon. (Also known as fog and storm clouds on Mauna Loa volcano in Hawaii, the home of the HI-SEAS analogue region, today marks the eighth day of the full detention of the Selene III crew inside the habitat. Crew cannot walk on boardwalk outside their habitat unless the atmosphere is safe for them. All storms pose significant safety hazards for crew members on both the simulated lunar and volcanic terrain.
Day after day, more and more hopes began to disappear from each of the crew members. At first, they would look out of the main residence window every few minutes, hoping for a different perspective. It slowly looked out of the window every few hours. When one noted that they could see new terrain appear within the gray dust, the entire crew rushed to the window of hope. Now some crew members want the windows to be shut off so that the gray exterior doesn't continue to pressure us.
Related: Selene III: Beginning an analog lunar mission with an explosion – Commander's Report: Sol 3
Not being able to go outside to conduct research trials and to probe the lunar surface is only part of the problem. In bad weather days we are unable to charge the residential battery properly as it uses solar power. During a dust storm, the solar energy reaches the solar panels just outside the dwelling. That means we have to be in a low power mode to get through the day. The first thing we do is unplug all the devices that are not critical to our survival, and we drastically reduce the heat (around 55 degrees Fahrenheit or 13 degrees Celsius).
The cold and frustrated Selene III Crew had a very low spirit day for the first time today. They work hard to find the silver lining in our situation and cheer themselves up with fun things to do.However, another gray day seems to have done the trick. Even the crew of the Valoria 1 team contacted us with words of encouragement and personally exclaimed to me: "Not anymore!" They suffered from periods of extremely low energy and endless lunar schedule shifts.
Related: The Valoria 1 crew is fighting to survive tonight – Commander's Report: Sol 8.
Another negative aspect of this situation is that the crew has become distrustful of our mission support team and CAPCOM (the capsule communicator, the primary person in communicating with the crew from mission control centers on Earth), we have a large team of volunteers doing it. Mission support and CAPCOM duties for each mission at HI-SEAS, one of their roles is to provide the crew with weather reports and forecasts on a daily basis or more often upon request.
Their forecasts were not very accurate over the past week, so my crew wasn't convinced of any information provided to them about the weather. This disconnection of ground crews is a conspiracy, which is not uncommon in missions, both in analogue and in real space. It can be evolving for a variety of reasons, such as when the crew on Earth has too much demand for space crews, or in this case when Mission Support gives the crew incorrect information. Therefore, I needed to remind the crew that this discrepancy was due to incomplete data from our position on the Moon and not by the malicious intent of our mission support team.
It's time for a change before my crew gets more grumpy and depressed. We all need to exercise for at least 30 minutes every day, so I recommend that we have a dance party as a workout for the day. That way, we fill our exercise quota for today and keep ourselves motivated. I let the crew pick their favorite songs for us to dance to, and I started us off with a 90s techno song, the next thing I know, there's a smile on my face again, and we're all. It felt much warmer as well.
Filled with more positive energy, we decided to continue doing fun and creative activities to raise our minds. Most of the crew are big fans of Star Wars movies, so we decided to introduce them to others who haven't seen them yet. Soon the crew will exchange jokes about the Skywalker family's "Dark Vader" and "lovable" traditions of cutting each other's hands with lightsabers. We also took pictures of the fun crew with replica lightsabers. Considering my past jokes about liking the dark side, in my experience with the Valoria 2 crew, I chose a red lightsaber.
These challenging moments on the Selene III mission were a great source of inspiration for Science Communication Officer Brooke Edwards outreach program.Brook documented her experience as an analog astronaut to analyze what. She thinks it will be a key factor for future space traveler's mental well-being. Her experience shows that good internal crew relationships and being positive are critical to the success of simulated space missions.
Likewise, our Operations Officer, Eboni Brown, was able to collect very compelling data for chronic stress studies and human connections through anonymous survey questions. Her findings will help identify what impact chronic stress, such as the global pandemic, on the Selene III crew and their ability to connect with each other.
The rest of the crew, however, faced negative news about the mission as their project didn't go the way they had hoped, Crew Bioengineer, Zoe Maxwell's perchlorate and nitrate reduction using bacteria and initial aquaponics. Well and shows the first signs of success. However, one of the fish in aquaponics, part of the experiment, died off and the plants she tried to grow never adapted to the challenging habitat environment and ended up withering.
Crew Engineer Oscar Ojeda's project, which focuses on characterizing communications and dangers during analog space missions, is ongoing. However, he was unable to assess anything related to the moonwalk, as the crew was confined to the dwelling due to a dust storm. Instead, he is focusing on new projects such as Slovak RoboTech Vision's Androver operations and testing that we have at HI-SEAS.
The project, at least part of Life Science Officer Jason Fischer, has gone well. He is trying to determine the efficacy of simulated wastewater as a nutrient source for microgreen growth. Jason is comparing it with industry standard hydroponic nutrient solutions. Until now, the permeability of the wastewater was not conducive to the growth of microgreen and required nutrient modification therapy to be successful in this endeavor.
Commander Musilova signs it, hoping the forces will be with us and we'll see more of the gray outside the window tomorrow.
Follow Michaela Musilova on Twitter @astro_Michaela. Follow us on Twitter @Spacedotcom and on Facebook.
Source link