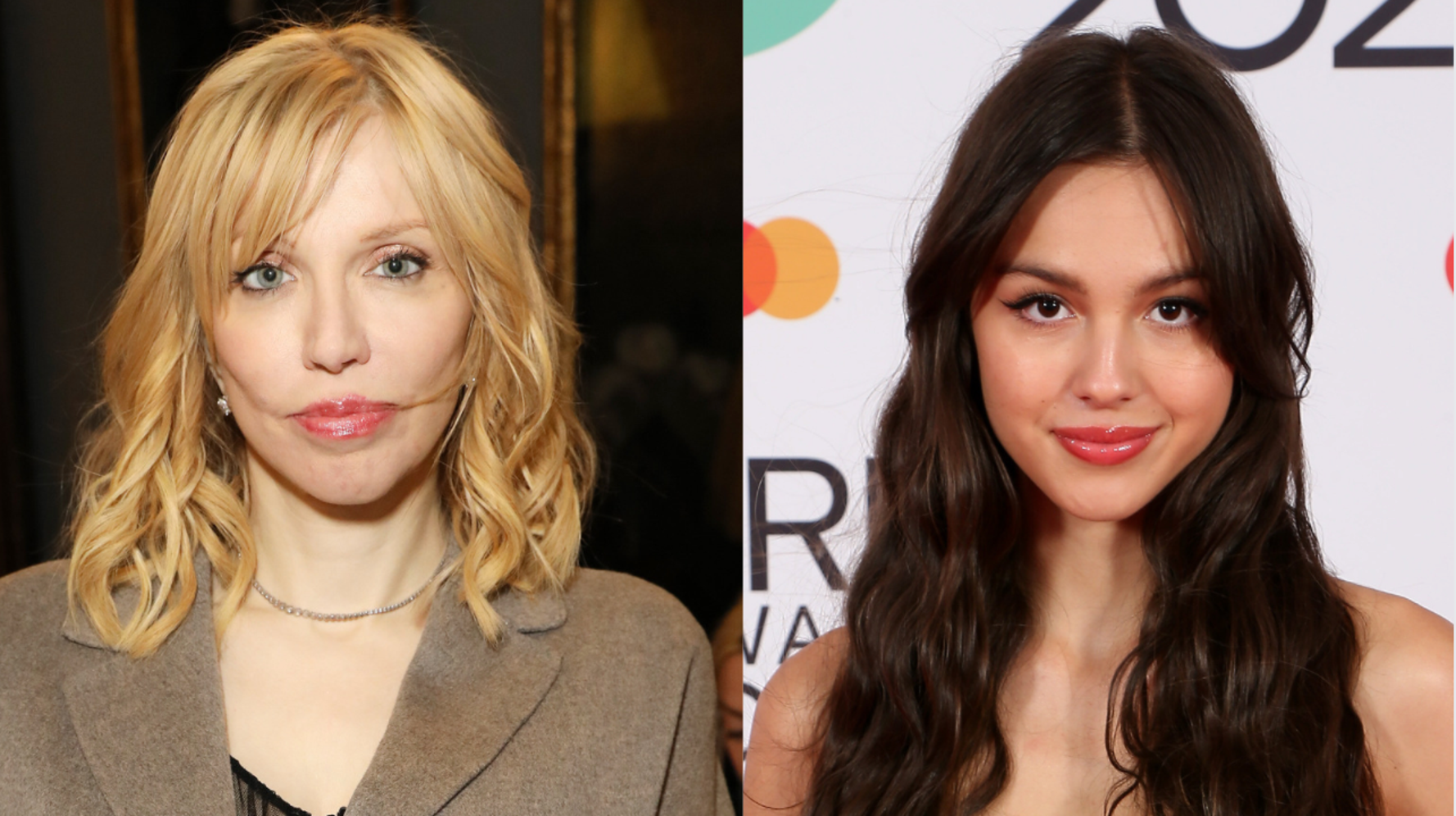 Courtney Love experienced her own déjà vu when she spotted Olivia Rodrigo's new promo photo.
The rock icon called the Disney star on social media this week. She accused her of copying the cover of "Live Through This," a 1994 album by former Love band Hole, and insisting that Rodrigo sent her flowers in error.
last week Rodrigo announces the arrival of a prom-themed concert film. She shared a photo of herself in a robe and crown. holding a bouquet of mascara with tears running down his face
The photos bear a real resemblance to the artwork for "Live Through This," featuring a similarly destroyed prom queen on the cover – a crown, flowers, streaks of mascara and all.
In an Instagram post on Friday, Love shared a photo of Rodrigo on her account and tagged the singer. by writing a caption under the picture saying "See the difference! #twin"
;
On Facebook, Love has extended her many grievances against Rodrigo and her record label Geffen, citing the "rudeness" of the "High School Musical: The Musical: The Series" star not to ask her or the photographer "Live Through This." "Ellen Von Unworth asks for permission.
"I told her I was waiting for her flowers snd. [sic] Note," Love wrote, "I hope it will be long. Does Disney teach kids to read and write? God knows. Let's see. Yes, this is rude. provoked anger? Baby, if I had money for everyone Will this happen? I'm going to be really rich!"
"My cover is my original idea," she added. "What would you have to spend in order to get it? I don't know, however. Disney? Yes, it's rude."
Von Unwerth told Another Magazine in 2019 that Love was inspired to photograph an album from Brian De Palma's Carrie, based on a Stephen King novel.
Rodrigo responded to Love's Instagram add-on, commenting: "Love you and live through this so much," but did not address further controversy.
"Olivia – it's fine," Love replied, before reiterating that she would check her email for an apology. "My favorite flower shop is Notting Hill London! Dm me for deets! I look forward to reading your notes!"
Rodrigo's live stream of "Sour Prom Concert Film" arrives Tuesday. The singer who just graduated from high school will choose to perform a song from an album released last month.
Guess that love is not perfect
Calling all HuffPost fans!
Subscribe to become a founding member and help build the next chapter of HuffPost.