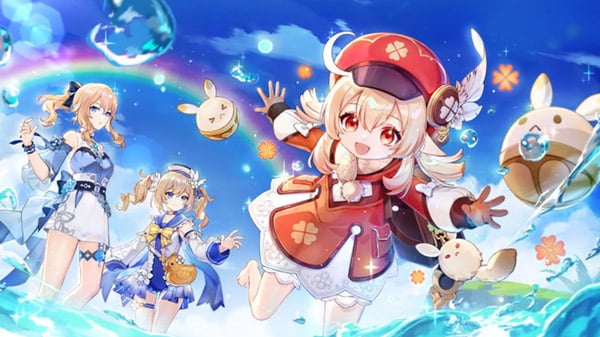 Update version 1.6 updates for The effect of GenshinDubbed "Midsummer Island Adventure", it will be released on June 9th, the miHoYo developer announced.
As the world of Teyvat enters summer, in this upcoming update, we have prepared a selection of tailor-made summer outfits and the latest set of sea and island adventures to refresh everyone. Meanwhile, Kaedehara Kazuha, the first new playable character from Inazuma, will join and lead Archon Quest to a new chapter.
Travelers who go through the main storyline in Liyue will be able to enter the new Archon Quest with Kazuha. You can also spend your beautiful summer in Teyvat in the uncharted sea area for a limited time in version 1
.6.
An island adventure in the middle of summer
If you love sailing, exploration and combat, we might have something for you in the main Seasonal event version 1.6: Midsummer Island Adventures. The story begins when Klee receives a mysterious letter from the Dodo-King threatening to take Dodoco away from her.To save Klee and Dodoco, travelers sail on a boat called Waverider and explore the tranquil, scattered islands. In remote sea areas
The main Midsummer Island Adventure event is split into four stages, each with its own unique gameplay. Initially, players must sail on the Waverider and destroy enemy towers and campsites, either by firing cannons on your ship or in close combat. In the next stage, players will take on a competitive challenge that mixes sailing and flying. The third stage will put your combat skills to the test against the new opponent Maguu Kenki, and finally, players will be asked to clear the nearby monster camp with the help of three types of harpastum bombs.
We would like to introduce a little more about the new monsters mentioned earlier, Maguu Kenki. With its unique Inazuma aesthetic, Maguu Kenki also has his own attack style. When Maguu Kenki's health is below a certain amount, it will summon ghosts and can deal damage to both Anemo and Cryo to the player. Additionally, ranged attacks will be blocked if Maguu Kenki does not join close combat, forcing players to face it one-on-one.
Many rewards are waiting for you in the event shop. By completing the main challenges mentioned earlier, you will receive two event currencies, Shiny Flotsam and Mini Harpastum, which can be used to exchange resources and items, including the new four-star catalyst Dodoco Tales. Up to the maximum customization
Dress for summer
No summer vacation is complete without cool summer clothes. So we designed a summer-themed outfit for Jean and Barbara to give you the chance to dress up in another outfit for the first time.
Jean's Sea Breeze Dandelion outfit will be available in the in-game store with a limited-time discount, Summertime Sparkle. Barbara's outfit can be earned for free by participating in Echoing Tales events.
During the Echoing Tales event, items called Echoing Conches can be found throughout the archipelago. The Echoing Conches Collection is not just for you to hear interesting stories and tales. But you can still get Barbara's new outfit if you collect enough Conches.
We also prepared other activities full of fun games and challenges in the archipelago. So be sure to check out this new limited time space in version 1.6.
One step closer to Inazuma
Kaedehara Kazuha, the first playable character from Inazuma, will be joining the official game in version 1.6. But offers a variety of combat styles But also gives preference to teammates in certain situations
Chihayaburu, Kazuha's elemental skill, releases a gust of wind, pulling objects and opponents to his current location before releasing nearby opponents, damaging Anemo and lifting Kazuha into the air. When Kazuha is in midair from the effect of Chihayaburu, he can launch a special Plunging Attack "Midare Ranzan", dealing Anemo damage and creating a small wind tunnel that sucks nearby objects and his opponent Elemental Burst Kazuha Slash will Attack an enemy with Anemo AoE damage in a single hit and drop a storm field that deals Anemo AoE damage over a specified interval to all opponents inside to give Kazuha more power to both his Elemental Skill and his Elemental Burst. Can deal additional elemental damage if it comes into contact with Hydro, Pyro, Cryo, or Electro.
Kazuha also provides additional buffs to the team, making him a great choice for your party and team. When a Swirl reaction occurs, Kazuha can grant bonus elemental damage to his teammates.One of his other Passive Talent can reduce the use of running stamina for your own party members.
In the latest Archon Quest, Kazuha will provide clues on how to shut down Inazuma.For some reason, this wandering samurai was sought after by Governor Inazuma, and now travels with Beitou's Crux fleet, the Crux Clash. A great martial arts competition will be held there.
Other improvements and more
As always, after all, we'd like to share with you some of the modifications that our team has decided to improve on their current gameplay based on serious consideration and player feedback! Some of you may have noticed a patch released shortly after version 1.5 was released.This patch is intended to improve performance from multiple angles, as well as the continued increase in frame rates on PS5 and PS4.
With version 1.6, if you liked the Serenitea Pot we introduced earlier, you will be able to invite characters you own to live in your kingdom. The characters of your kingdom will gradually accumulate character companionship experience over time, and this increase rate will increase faster with the higher Adeptal power rank.
The effect of Genshin It's available now for PlayStation 5, PlayStation 4, PC, iOS through the App Store and Android via Google Play.A Switch version is also planned.
Watch the new trailer below.
Source link