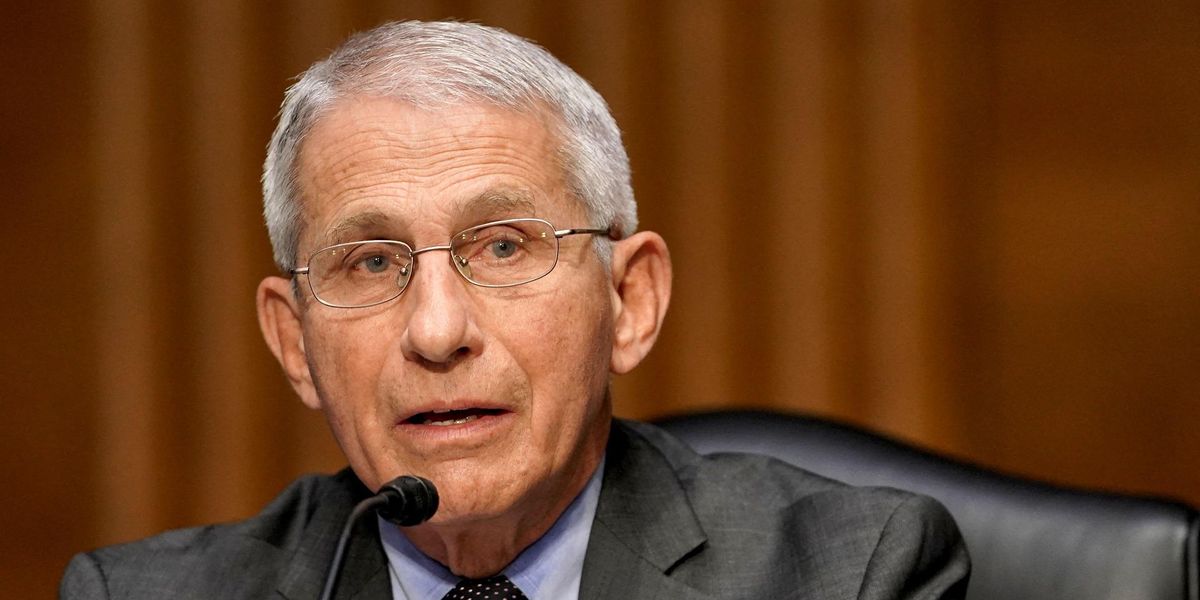 Virologists who co-authored an article in March 2020 argued against the COVID-19 leak theory. On the origins of the coronavirus, his Twitter account has been deleted amid an email review that discovered he had told Dr. Anthony Fauci a few weeks ago that "Some features" of the virus "(may) insult the design"
What are the details?
Virologist Kristian Andersen, a professor at the Scripps Research Institute, falls under the microscope after a series of emails from Fauci, director of the US National Institute of Allergy and Infectious Diseases. It was obtained from the media last week through a Freedom of Information Act request.
As TheBlaze previously reported, Andersen wrote to Fauci on January 31
, 2020, "The anomalous nature of viruses makes up a very small part of the genome (<0.1%), so we really had to look at the entire sequence very closely. that some features (may) look engineered."
NBC News reported that just four days after the email to Fauci, Andersen wrote in another email that suggestions the virus was designed as a "Fracture Theory" added that "We need to look at this in more detail and have further analysis done. Those opinions are subject to change."
A few weeks later, on March 17, 2020, the journal Nature Medicine published a paper by Andersen and four other researchers, in which they argued that "We don't believe any kind of laboratory situation is possible."
When the emails between Andersen and Fauci emerged, people began calling Andersen on social media and urging him to describe himself on his clear face about the origins of COVID-19 in a short span of time. Others criticized the mobilization. NIH Andersen and Scripps grants received after his public release of leak theory labs. And many users accused virologists of deleting thousands of tweets after the emails appeared. He eventually deactivated his account entirely.
Newsweek reported that before Andersen deleted his account. He defended himself by tweeting in response to a question in his email to Fauci: "We thought — initially — that the virus might be designed and/or manipulated. It turned out to be something else suggested — which is the summary of our article."
He continued: "As I've said many times. We seriously consider the lab the possibility of leaks. detailed analysis And many discussions lead to the conclusions in our report. What the e-mail shows is a clear example of a scientific process."
Andersen told Newsweek: "The conspiracy created a narrative that we all dismiss. [the lab-leak hypothesis] out of hand that's ridiculous and can't be further from the truth Just the data doesn't support the hypothesis.
Is there anything else?
A Twitter spokesperson confirmed to Fox News that Andersen had deleted his own account, but Andersen did not immediately respond to requests for comment about him leaving the platform and emailing Fauci.
window.REBELMOUSE_LOWEST_TASKS_QUEUE.push(function(){
window.REBELMOUSE_STDLIB.loadExternalScript("https://assets.revcontent.com/master/delivery.js", function() {
});
});
window.REBELMOUSE_LOWEST_TASKS_QUEUE.push(function(){
//Facebook Pixel Code !function(f,b,e,v,n,t,s) {if(f.fbq)return;n=f.fbq=function(){n.callMethod? n.callMethod.apply(n,arguments):n.queue.push(arguments)}; if(!f._fbq)f._fbq=n;n.push=n;n.loaded=!0;n.version='2.0'; n.queue=[];t=b.createElement(e);t.async=!0; t.src=v;s=b.getElementsByTagName(e)[0]; s.parentNode.insertBefore(t,s)}(window, document,'script', 'https://connect.facebook.net/en_US/fbevents.js'); fbq('init', '1398069580413568'); fbq('track', 'PageView');
});
window.REBELMOUSE_LOWEST_TASKS_QUEUE.push(function(){
function menuClick() { console.log("clicked");
if (document.querySelector('.hambg-btn.js--active') != null) { document.getElementsByClassName('huge-menu')[0].style.display = 'none'; document.getElementsByClassName('hambg-btn')[0].classList.remove('js--active'); document.body.classList.remove("huge-menu-opened"); document.body.classList.remove("menu-opened"); } else{ document.getElementsByClassName('huge-menu')[0].style.display = 'block'; document.getElementsByClassName('hambg-btn')[0].classList.add('js--active'); document.body.classList.add("huge-menu-opened"); document.body.classList.remove("menu-opened"); } }
function addMenuClickListener() { var rebelMenu = document.getElementsByClassName('rebelbar__menu-toggle'); var menuClose = document.getElementsByClassName('hm__close'); var stickyMenu = document.getElementsByClassName('sticky-menu');
rebelMenu[0].addEventListener('click', menuClick);
if(menuClose[0] != undefined){ menuClose[0].addEventListener('click', menuClick);}
if(stickyMenu[0] != undefined){ stickyMenu[0].addEventListener('click', menuClick); } }
addMenuClickListener();
});
window.REBELMOUSE_LOWEST_TASKS_QUEUE.push(function(){
window.REBELMOUSE_STDLIB.loadExternalScript("https://assets.adobedtm.com/98de9919e92a38033805f9f035c43198533e4380/satelliteLib-38c7b1e4b1bb3e0378e82d10601662aebfb04eda.js", function() {
window.analyticsData = { events: {active: {view: {asset: {}}, device: {}}} }; window.analyticsData.events.active.device.appVersion = "1.1"; window.analyticsData.events.active.device.host = "premiere.off.us"; window.analyticsData.events.active.device.subHost = "theblaze.com"; window.analyticsData.events.active.pageName = "articles"; //window.analyticsData.events.active.view.asset.id = "articles|"+ __BOOTSTRAP__.post.basename; window.analyticsData.events.active.view.asset.name = document.title; //window.analyticsData.events.active.view.authorId = __BOOTSTRAP__.post.original_user_subsite.title; window.analyticsData.events.active.view.pubDate = "06/07/2021"; window.analyticsData.events.active.view.contentOriginType = "Premiere"; window.analyticsData.events.active.view.stationCallLetter = "TheBlaze"; window.analyticsData.events.active.view.stationFormat = "NEWSTALK"; window.analyticsData.events.active.view.stationMarket = "PREMIERE"; window.analyticsData.events.active.view.personalityId = "theBlaze"; window.analyticsData.events.active.view.tags = ["fauci", "deletes", "emails", "kristian-andersen", "twitter"]; window.analyticsData.events.active.view.photoGalleryExists = "FALSE"; window.analyticsData.events.active.view.photoGalleryPageView = "FALSE"; window.analyticsData.events.active.view.contentFrame = "page"; window._satellite && _satellite.pageBottom();
});
});
window.REBELMOUSE_LOWEST_TASKS_QUEUE.push(function(){
function test_adblock(func, id) { var t="0.1.2-dev", el = document.createElement('div'); el.id = id ? id : 'sponsorText'; el.appendChild(document.createTextNode(' ')); Object.assign(el.style, { left: '-999px', position: 'absolute' }); document.body.appendChild(el); setTimeout(function() { if (el) { var o = el.clientHeight === 0; func(o, t); document.body.removeChild(el); } }, 200); } test_adblock(function(is_blocked) { console.log(is_blocked); var wid = is_blocked ? 140286 : 140117, target = document.getElementById('rc-adblock-widget'); var el = document.createElement('div'); el.setAttribute('data-rc-widget', ''); el.setAttribute('data-endpoint', 'trends.revcontent.com'); el.setAttribute('data-widget-id', wid); target.appendChild(el); if (typeof window.renderRCWidget !== 'function') { var script = document.createElement('script'); script.src="https://assets.revcontent.com/master/delivery.js"; script.defer = true; target.appendChild(script); } else { window.renderRCWidget(el) } });
});
window.REBELMOUSE_LOWEST_TASKS_QUEUE.push(function(){
(function(s,u,m,o,j,v){j=u.createElement(m);v=u.getElementsByTagName(m)[0];j.async=1;j.src=o;j.dataset.sumoSiteId='f20bb26e74a94a53daa9113206b98941e1dfba90635d317b9efd9e33a89bf515';v.parentNode.insertBefore(j,v)})(window,document,'script','//load.sumo.com/');
});


Source link