I am a Palestinian photojournalist living in Gaza. Of all the devastation I recorded this month during the 11-Day War between Hamas and Israel. One early morning was outstanding.
Two weeks ago on the Eid holiday And I set out to photograph the ruins at 5:30 a.m. The holiday that marks the end of the holy month of Ramadan is one of the times that Palestinians have been waiting all year. men wear cologne and traditional jalabiya shirt instead of pants women wear thobeMP, we go to the mosque to fajr Pray and listen to the Imam's lesson on how we should visit each other to spread the spirit of love. The people on the streets had wide smiles.
We hope both sides will put an end to the shooting on our holy day. Just as they did during the last war between Gaza and Israel in 2014, but this time they didn't. The incident happened a week later. After more than 250 people died in the Gaza Strip. According to official reports In Israel, officials said 12 people were killed as more than 4,000 rockets were fired from the Gaza Strip.
I went to Saraya A square in the center of Gaza and meet people looking for an open mosque Just to feel the day of Eid but instead saw an unreasonable event There was a large hole in the road where Israeli missiles fired. beside a billboard with Ramadan greetings and another banner with a silhouette of Mohammed Deif, leader of Hamas.
mosque not open Local radio stations warned residents not to leave their homes. Gaza's Ministry of Islamic Affairs has announced that there will be no community prayers. because it was too dangerous to gather during the war. It said it wasn't. HaramIt is not forbidden to pray at home and with family.
"Excuse me, can I ask you something?" I heard. It was Abu Kamal, the owner of the Kodak Express. He was on the balcony of his apartment above the photo shop. Talk to me down the street
"I dare not go out and look at the door of the shop at home. Tell me, is it bad?"
"I'm sorry, but God loves you so much," I joked, "only broken glass. otherwise ok"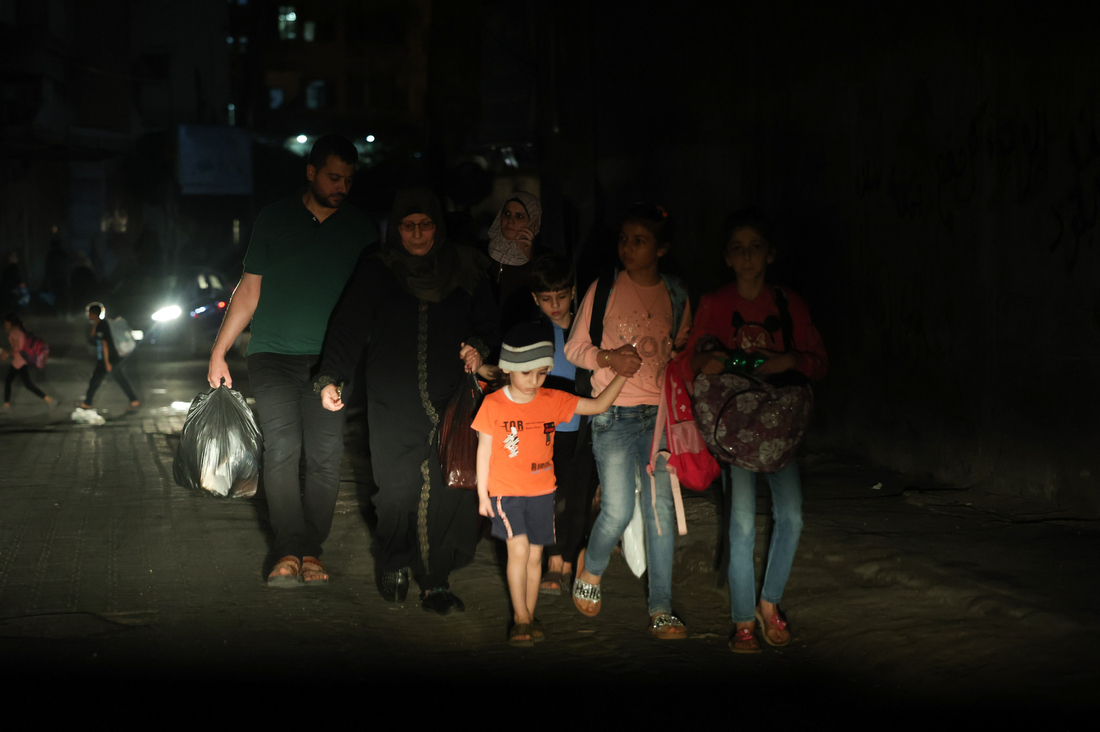 The smile I saw on his face was the real Eid to me.
I asked him what happened. He said he had never felt anything like this before in his life. The sound made a hole in his ear. He jumped out of bed and went to his child's room with his wife. The first air raid took place the second. The third.
"The whole house is dancing," he said.
After the tenth air strike Everything was quiet.
"I don't understand if I'm alive or not. from family cries I understand that I am still alive," he told me. "I didn't dare to look out the window to see my shop until I heard tuk-tuk-tuk of your camera"
I left Abu Kamal and drove to photograph the collapsed building. when I see people running They said they had just received a call from the Israelis. Warn that their 5-storey building in a luxury residential area will be attacked. Sixty families are evacuating.
I saw four children, father and mother, their faces were terrified. I pulled and offered them an elevator. father was very happy He said he wanted to escape to his father-in-law's house, but there was no car.
At 6:30 a.m., a girl and a boy are holding lollipops and don't understand what's going on. A little boy about nine years old said to his father, [Papa], Why are we going to see Grandpa so soon? "
Father accountant Mohammed Shamali wears slippers and pajamas and carries two suitcases, one with their official documents. The other had his wife's bracelets and gold jewelry.
"I tried to convince my kids, 'All the bombs you hear are not war. It is a celebration for the coming Eid' and when Eid comes. We evacuated our homes," he said. "This is the worst Eid day."
I sent them to take pictures at the curb, waiting for Grandpa to open the door.
Then I called my mother. I didn't go home for three days because I stayed in my father's office. Take a photo of the rocket from the roof at night.
"Happy Eid, Mother," I told her, and she began to cry.
Anas Baba is a freelance photographer and journalist based in Gaza.
Source link